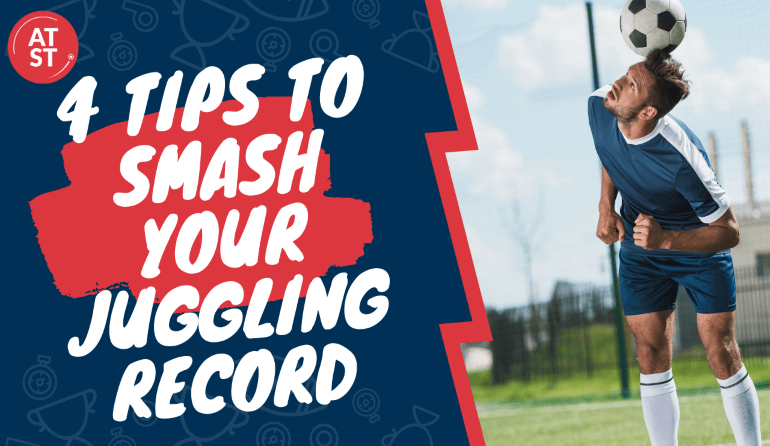 Juggling has always been an important part of learning how to handle the ball at an early age.   But if your child is like mine, they don't spend days on end in the streets practicing.
In this post, I am going to share some quick tips and the system I used to take my son from a juggling record of one to over 1,000.
#1 Practice with Both Feet
It's essential, but kids find this difficult at first. That's why we launched the "No More Week Foot 30 Day Series" in Anytime Soccer Training.
If your child struggles with their weak foot, have them complete the 30-day series and their confidence and strength in that foot will improve dramatically.
#2 Avoid the Stiff Leg
It's best to start by lifting your knee up and extending your lower leg while pointing the toes upward.  By bending your knee and pointing your toes upwards, you can get a slight backspin on the ball – which is better than touching the ball straight underneath.
#3 Make it Fun & Challenging
Kids love trying new things and trying to break their juggling record.  Have them take the juggling challenge today.
#4 Follow a Proven Plan that's Easy to Use
The key to improving your juggling record is staying slow and steady. That's why we designed Anytime Soccer Training to have hundreds of juggling sessions at every level.  The short videos, gradual progression, and challenges help players stick with the program.
Join today and take the 30 Day Juggling Challenge. It's divided into Beginner, Intermediate, and Advanced levels; and no day is longer than 10 to 15 minutes.  In less than 30 days your child will smash their juggling record and gain more confidence.