Take the 7-Day

Ball Mastery Challenge!
7 free training sessions delivered daily
10 minute workouts that will transform your game
Fun games and challenges included
Day 1
1,000 Touch Ball Mastery
Start Day 1 by getting over 1,000 quality touches in less than five minutes. Ball Mastery is an essential building block for all soccer players. Join today and receive a 1,000 touch workout that is specifically designed to have your manipulate the ball and change direction.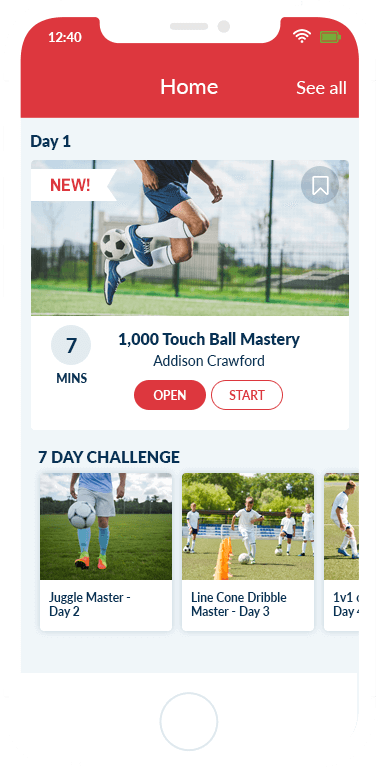 Day 2
Two-Footed Juggle Master
Great players master the ball in the air with all parts of their feet and bodies. Anytime Soccer Training features a juggling curriculum that will take you from a juggling record of one to 1,000. It's all step-by-step and starts with the basics.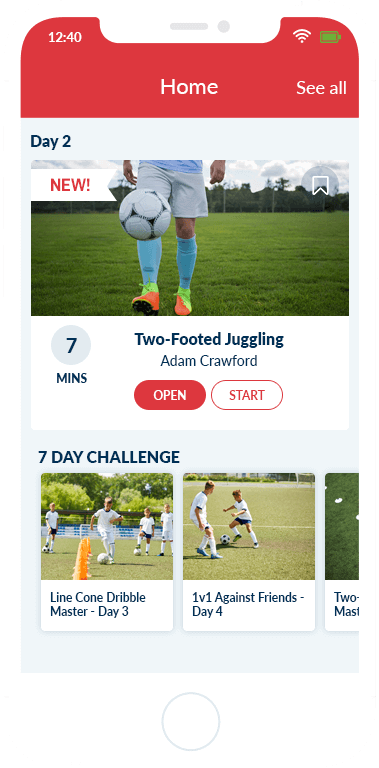 Day 3
Line Cone Dribble Master
We assembled over 100 line cone drills so that you don't have to. Not only does each drill have it's own video, but each foot also has its own special video. Master these drills and you will blow by multiple defenders in no time.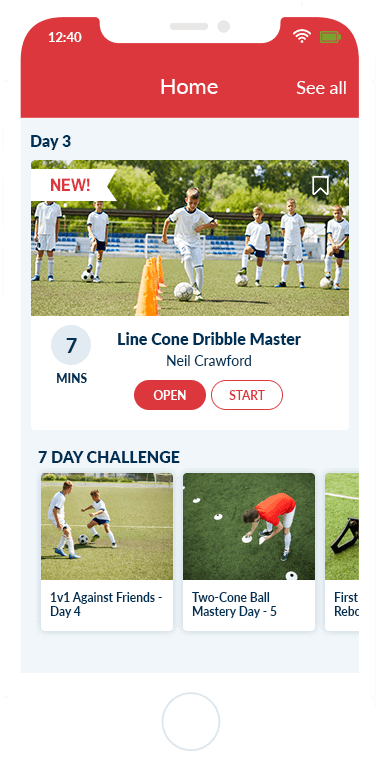 Day 4
1v1 Against Friends
Now it's time to apply the skills you learned in 1v1 games against your teammates, parents and friends. Anytime Soccer Training includes nearly 100 1v1 games that challenges each player to apply the skills they learned in a fun environment.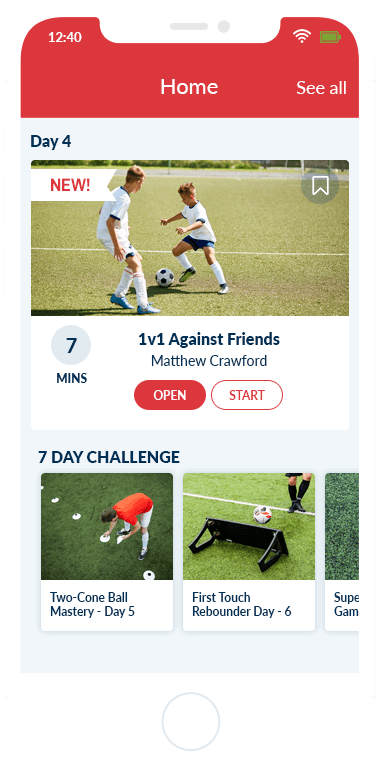 Day 5
Two Cone Ball Mastery
The perfect drills to do at home. The Two Cone Ball Mastery Series has hundreds of drills that require little space and only two cones. Improve your first touch, ball control, quickness and lateral movement over the course of nearly 100 training videos.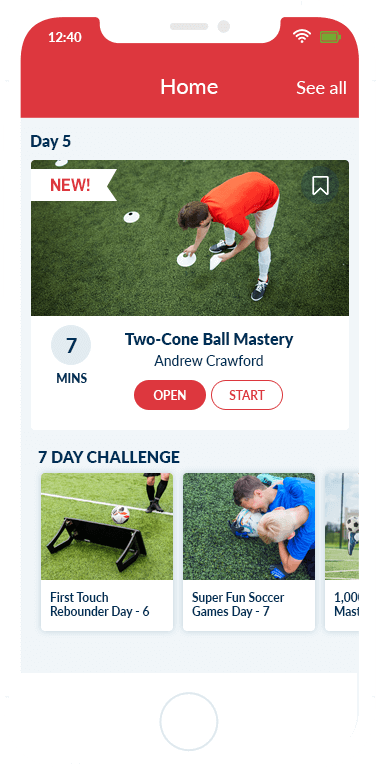 Day 6
First Touch Rebounder
Rebounder drills are essential for improving first touch, passing accuracy and reaction time. The First Touch Rebounder Series have over 101 videos that develop these skills in both feet.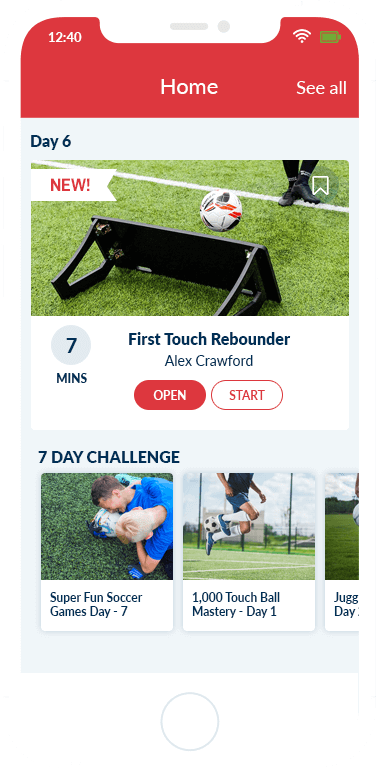 Day 7
Super Fun Soccer Games
All kids love racing, tagging, chasing and playing 1v1 and rewards. Anytime Soccer Training combines fun skill-based soccer games with professional training to motivate your child to stay active and train even more.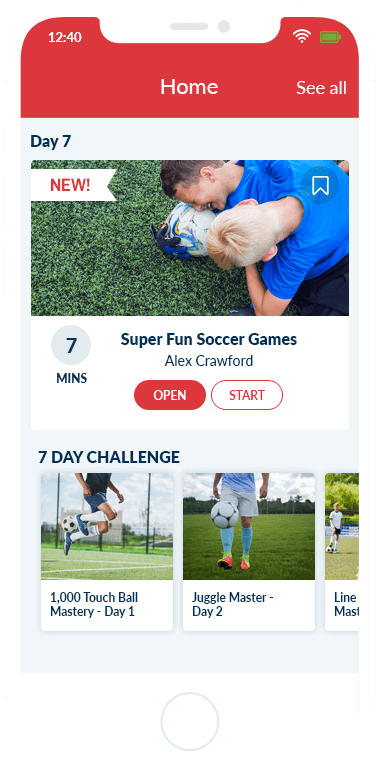 10 Minutes a day will
transform your game!
7 free training sessions covering ball mastery, dribbling, juggling and more.
Each video is 100% follow-along and easy to use.
Watch from any device and no equipment necessary.
Keep the sessions free forever!
How

Anytime Works

Anytime Soccer Training makes it easy to train at home and keeps kids engaged with challenges, fun games and rewards.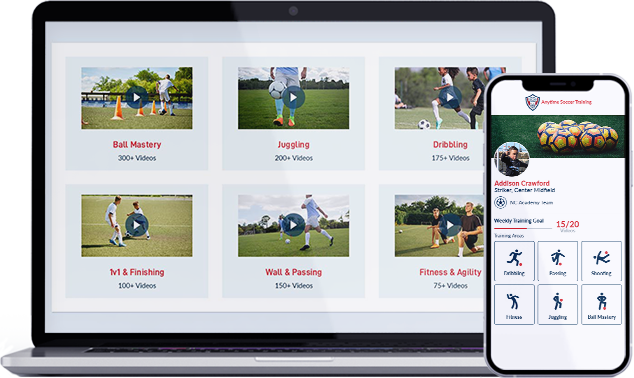 +1,000 training videos that are

100% follow-along
Anytime Soccer Training gives you everything you need to practice. Every video includes slow-motion demonstrations, clear verbal instructions and a bright timer.
Comprehensive program with

every soccer skill included
We put everything you need in one place. The program covers ball mastery, juggling, dribbling, finishing and much more.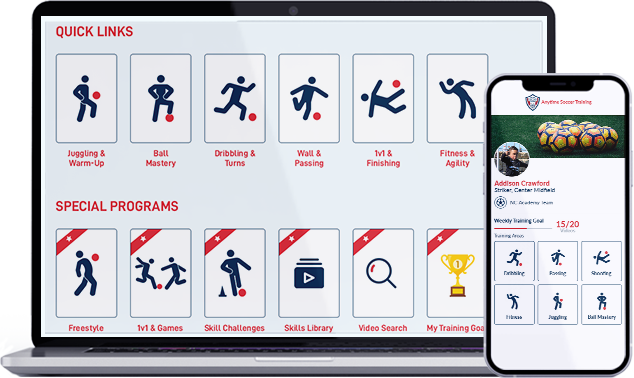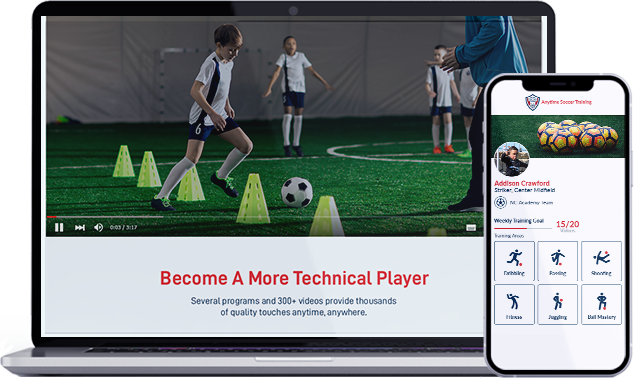 Ability to practice

one move at a time
The program includes a dedicated video for each move. That's right, master each move individually before combining them in later sessions.