When my sons began competitive soccer, every coach and the other parents gave me the same tip,
Team training wasn't enough; they must also get extra touches at home.
I wanted to help them but found it really difficult. I spent hours searching the internet for soccer drills.
Youtube gave me a lot of ideas, but as you can see below, the videos were random, and they were impossible for my children to follow.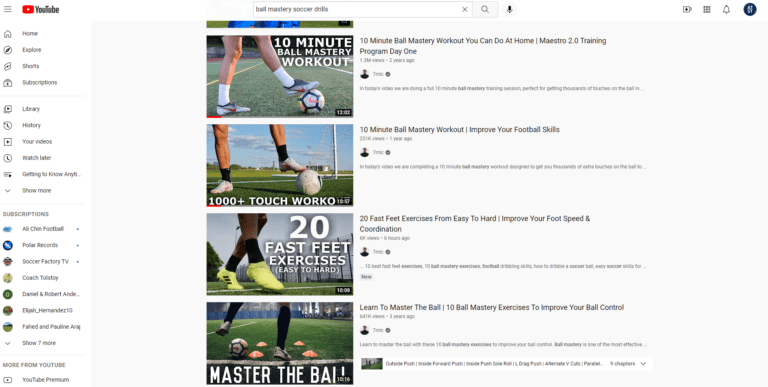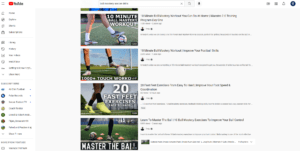 I needed a program that was easy to use, 100% follow-along, and went step-by-step from beginner to advanced.
Fast forward to when I began coaching and all the parents had a similar problem. Knowing how important it was for kids get touches at home, I had no way of giving them homework.
We created Anytime Soccer Training, to solve these problems and more.  The program is easy to use, 100% follow-along and covers everything.
It's the only online training program with thousands of training videos and hundreds of fun games.  Coaches can track their teams progress, give rewards and assign homework.
Anytime Soccer Training vs YouTube
Below is a popular video found on YouTube.  I love the quality of the content and the ideas that he provides. However, there so many important features that parents and coaches also need in order to follow an effective program at home.
For example, this video starts off too advanced, it's not follow-along and it's too long; with too many moves included in a single video.
Anytime Soccer Training dissects each move into smaller parts and incorporates them over a spectrum of skill areas (i.e. ball mastery, dribbling, passing) which follows a slow progression.
This means that before the player reaches an advanced move, they have plenty of opportunity to practice the foundational components that make-up that move.
Said plainly, we allow players to crawl before they walk and walk before they run.
With Anytime Soccer Training
There is a dedicated video for each move which allows players to get plenty of isolated reps.
Every videos is 100% follow-along.
Every video includes a slow-motion demonstration and clear verbal instructions.
The videos are short; so that your children stick with it.
The format is consistent with an interval timer and frequent rest breaks. 
There is a dedicated video for each foot; helping players become two-footed.
 The program includes over 101 fun skill-based soccer games that your kids will love.
Below is an example of one of the thousands of Anytime Soccer Training ball mastery drills.
Stop wasting time searching for soccer drills and join today for free.