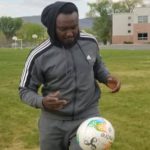 In this episode of the Inside Scoop podcast, we had the pleasure of sitting down with Coach Isaac Acolatse, a premier coach at Utah FC Spider and a native of Ghana.
Coach Acolatse shared his unique perspective on what it's like to play youth football in Accra, Ghana, as well as in the United States.
If you're interested in hearing more from Coach Acolatse or have any questions about soccer training, join the Anytime Soccer Training Facebook community today!
As always, we aim to provide valuable insights and resources to help you become a better player, coach, or parent in the world of soccer.