There are no playbooks for raising children, and definitely none for raising a competitive athlete.  That's why I believe that it's so important for parents to seek advice from coaches, clubs, and other parents who have more experience.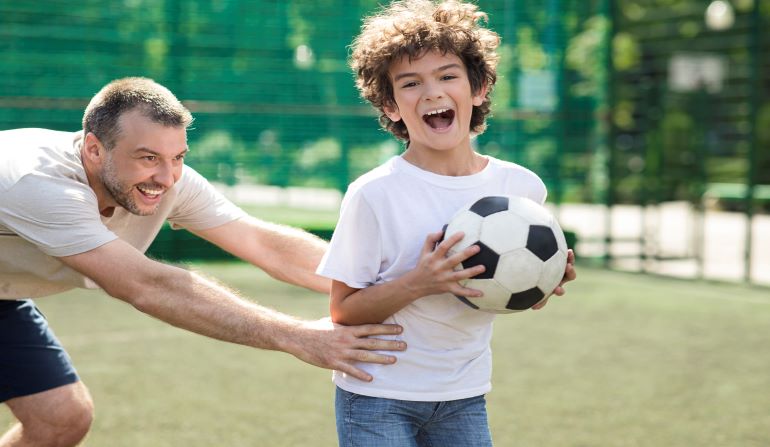 Over the years, however, I found there to be virtually no advice or practical tips provided to parents who actively supplement their child's training.
Sure, there is an abundance of great advice on things like parent sideline behavior and the proverbial car ride home – but nothing specifically designed to help parents looking to supplement their child's training in a positive way.
And the few mentions the subject got was to admonish parents to not overpressure their kids and/or keep things totally fun.  Again, great advice but,
I was left figuring things out through a lot of trial and error.
This inspired me to create the Parent-Trainer's podcast series. This podcast series provides candid and unfiltered insight into the ups and downs of training my own two sons. It's a must-listen-to series for parents who actively supplement their child's training.
The below list is inspired by the lessons I learned, yet were never talked about in coaching circles. Note, it's not that most coaches are against parents helping their children, as I explain in the podcast series – it's just not something that most of them even consider or give serious thought to.  They have too many other things to focus on!
So here is the list:
#1 The parent is in the best position to supplement their child's training

  
First off, the parent's training is free – and in most cases, the parent either lives with their child or has a lot of access to them.
This makes it easy to squeeze a little skill training into a busy day.  Even if you hire a great private trainer, the player still needs to do a little training at home.
And even the most dedicated trainer can't come to your home for a daily five minute ball mastery session.
Anytime Soccer Training makes it easy for parents to help children get extra touches.  Try this short ball mastery session today. It's 100% follow-along and one of 500 sessions within the 1,000 Touch Ball Mastery Series.
2.
#2 Developing the child's weak foot
No one cares more about improving your child's weak foot than you do.
Coaches try their best, face a mountain of obstacles that prevent them from properly developing each player's non-dominant foot.
There isn't enough time – team training is not frequent enough to provide the reps needed to improve the weak foot.
There are too many kids – with so many kids, the coach doesn't have the bandwidth to provide individual training to your child.
There is too much to cover – coaches must cover an entire year's worth of content which means that they don't have the luxury of spending an inordinate amount of time on one skill
Read the article How to Improve Your Weak Foot in Two Weeks to learn how Anytime Soccer Training makes it easy for players to practice their weak foot.
Also, try this short rebounder session. It's 100% follow-along and one of 500 sessions within the First Touch Rebounder Series. Each session includes a dedicated video for each foot as well.
#3. Improving aerial control

  
For better or worse, juggling and aerial control practice has been relegated to an unorganized warmup.
However, juggling and aerial control are extremely important to soccer development.   Not only does juggling improve a player's first touch, but, with younger players especially, it drastically improves balance, coordination, and agility.
Another often overlooked benefit is that aerial training improves shooting and finishing techniques.  Check out the article, 13 Tips for Helping Your Child Juggle to learn more about the huge benefits of aerial control.
How many juggles can you do in 30 seconds?  Take the Anytime Soccer Training Juggling Challenge today!
#4. Increase the volume of touches on the ball

  
The fact of the matter is that competitive youth soccer players don't get enough touches outside of practice.
Again, since the parent lives with the child, it's easy (albeit it takes commitment) for them to help their child squeeze five minutes here and there.
Look at the below video where my son is following one of the First Touch Rebounder Series videos.
This video shows that he got 50 touches in 30 seconds. The video is five minutes, which means that he will get approximately 2,250 touches during this session.
Doing only this video for 1/2 of the year will give him nearly 350K extra touches!
#5. Modeling a growth mindset

  
Growth Mindset is a term coined by the groundbreaking research of Dr. Carol Dweck.  In essence, when players believe they can get better, they understand that effort makes them stronger.  Therefore they put in extra time and effort, and that leads to higher achievement.
Your child watches you more than you can imagine.
Therefore, it's much more effective that parents "model" a growth mindset in their personal lives. This behavior will motivate your child and show them a standard to reach for.
Recommended Resource
Since I didn't play soccer growing up, I learned a lot from coaches and soccer parenting forums like The Soccer Parent Lifestyle.  Founded by another dedicated and crazy soccer dad, this group was formed to support parents and help them navigate youth soccer. I strongly encourage every soccer parent to join.
I guarantee that you will laugh, become inspired and learn a great deal about this long journey we call youth soccer!