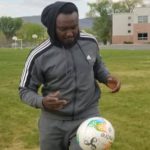 In this episode, I sat down with Coach Isaac Acolatse who is a coach at the Utah FC Spider to learn what it's like to play youth football in Accra Ghana.
Coach Isaac Acolatse is a premier coach in Utah and a native of Ghana. He shares an interesting perspective having lived and played in both the US and Ghana
Want to speak directly with Coach Acolatse? Join the Anytime Soccer Training Facebook today!