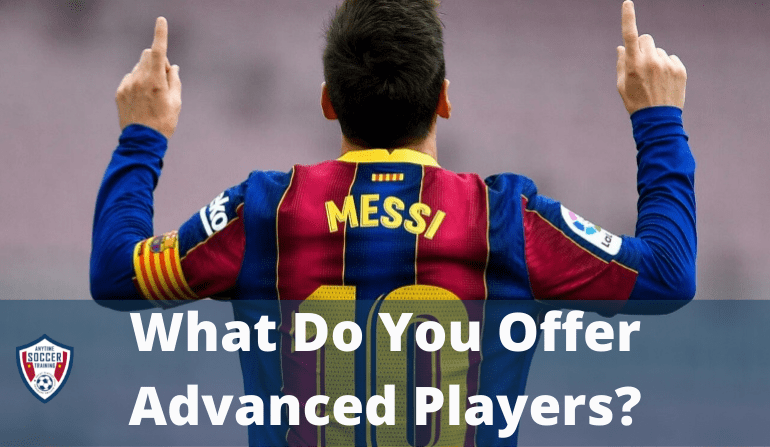 Last week I encouraged members of the Anytime Soccer Training Facebook Group to take the 7 Day Ball Mastery Challenge. In response, a fellow parent-trainer and friend posted the following question;
It's been a while since I visited Anytime…What do you have for [Adam] or other advanced players?
This question comes up frequently  – so I want to take a moment to address it properly.
You Must Build a "Rock Solid Foundation"
In terms of soccer, a Rock Solid Foundation is technical mastery so high that the player's feet, movement, and mind work as one. While there are some exceptions, few youth soccer players (including my own sons) have a Rock Solid Foundation and thus will benefit greatly from spending more time on the fundamentals.
The Anytime Soccer Training program ensures that the player has a Rock Solid Foundation before moving on to more advanced training sessions. Below is one of the beginning videos in the Figure 8 Explosion Series.
Regardless of skill level – a youth soccer player just can't go wrong doing these sorts of drills over and over again.
Playing with your child is by far the most important ingredient to their development on and off the pitch.  Therefore, if ALL you did was Anytime Soccer Training's 1v1 Battles and 101 Soccer Games – your child's skills will improve drastically and they will have so much fun.
Watch the below video at home and then head to the field to play 1v1 against your child.  Anytime Soccer Training has hundreds of games and 1v1 variations.
More Content than You Can Imagine
The program has nearly 2,000 training videos and we are adding new content every week. I strongly recommend starting at the first video of each module.  However, you are more than welcome to skip sections.  The great thing is that every move has a dedicated video.
This means that your child will never get lost, regardless of where you start.
The only caveat is with the Two-Footed Juggle Master Series. This series is designed to take the player from a juggling record of One to 1,000.  Therefore, I do recommend experienced players start at the intermediate or advanced level.  Here is a sample video from the more advanced section.
All the Essentials in One Place
In addition to the nearly 2,000 core training videos, The Anytime Soccer Training program has a module entitled the Essential Training Sessions.  The training sessions in this module include all the essential moves across the spectrum of training content.
Check out the first of 10 Essential Ball Mastery Videos:
I don't care how good you are – a player can always improve their non-dominant foot.  The problem is that coaches cannot devote the necessary time to this during team training – and it's impractical to spend $40 to $80 an hour for a trainer to watch your child dribble, pass and shoot exclusively with their non-dominant foot.
This must be done at home in the backyard or on the field.
Not only does each move in the Anytime Soccer Training program have its own video – but each foot has its own video.  No more begging your child to use their weak foot – just hit play and watch them develop.
Try one of the below single-foot videos from the First Touch Rebounder Series.
 

Anytime Soccer Training is a program that epitomizes what I do at home with my own sons.  Trust me, I don't have a secret training method or some special sauce that I am not telling you about – I care too much about your child's development to do that.
Anytime Soccer Training was created for parents and players who are in it for the long haul.
Most children are excited to spend that hour a week with the cool private trainer –

And rightly so, but that is not enough for mastery.
Mastery requires a lot more frequency (the formats may vary, but time spent on your craft doesn't). A few minutes before practice, a few minutes in the morning, and longer sessions here and there.  That is the real secret sauce.
Anytime Soccer Training's engaging videos and short 100-follow along format are specifically designed to empower the child to stick with it and not become frustrated or bored.
The results are skillful players who enjoy the game more.
Anytime Soccer Training is purposely designed to enable the child to train independently.  We are zealots about self-determination and autonomy.  The greatest benefit of the program is that it teaches your child that they don't need anyone else to get better.
All they need is a ball, a little space, and self-determination.
That is why we begin each module with basic foundational drills.  This gives your child early success and provides ample time for them to get acquainted with the program.
This approach is taboo among some youth soccer coaches and parents.  If you think your child is too advanced to benefit from a toe tap or tick-tock variation ball mastery session (to start with) – then there is likely nothing I can say that will change your mind.
Just remember that Anytime Soccer Training has over 2,000 videos and counting.  If there is a drill or move you would like us to add – please email it to neil@anytime-soccer.com and we will add it to the program and give you a shoutout!