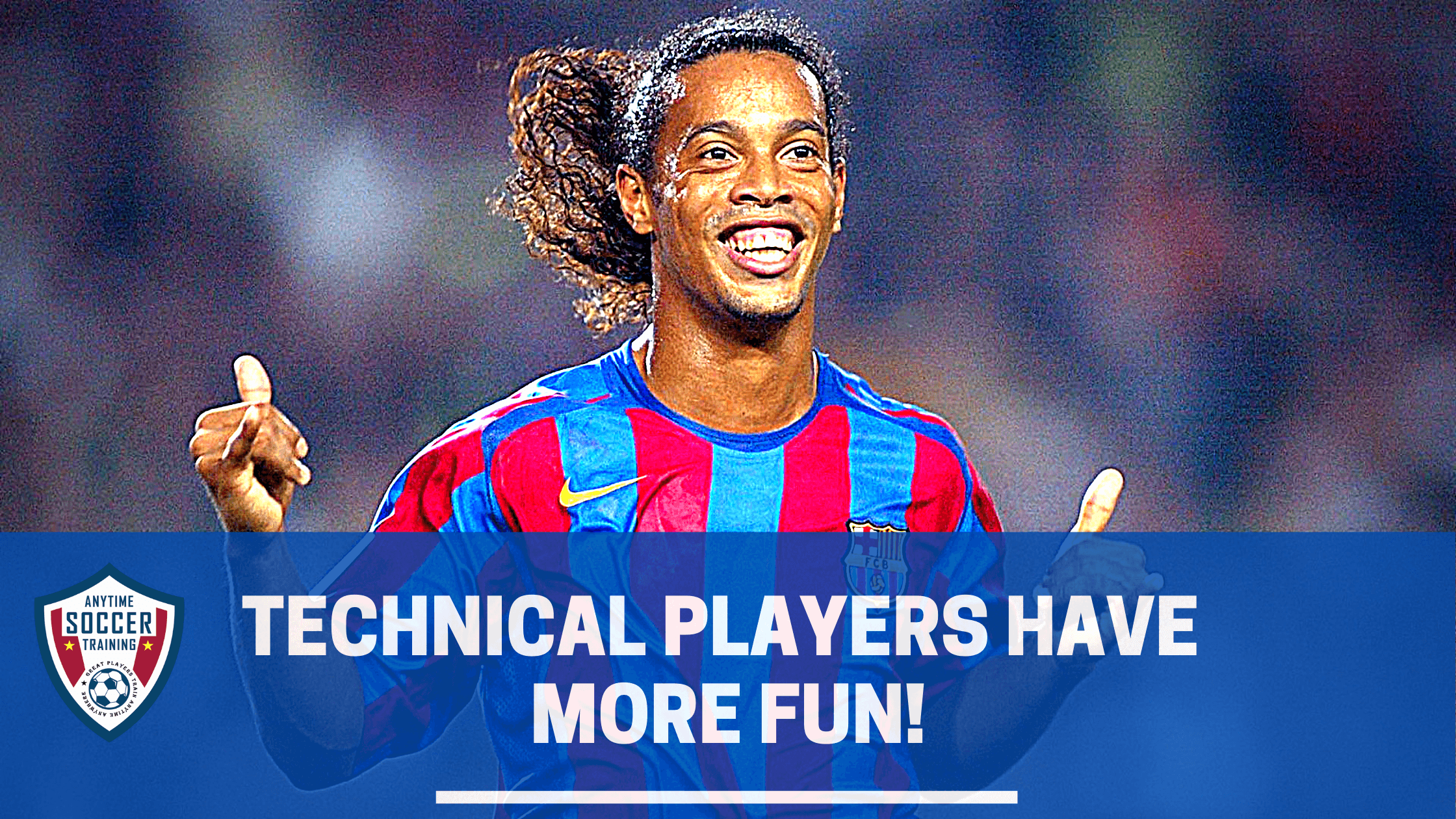 Players who Master the Ball Have More Fun!
The best players are the ones who master the ball. To master the ball, you must spend extra time training with the ball.  Players who are comfortable on the ball, burst with confidence, flair, and creativity.
Many people assume that certain players, like Ronaldinho, are naturally gifted.  This could not be further from the truth.  Through our programs, we have helped thousands of kids master the ball and become much better soccer players.
Your dedication, commitment, and drive are the keys to success – not your current skill level.
This video is the result of one such player who has used Anytime Soccer Training for one year.
What is Ball Mastery Training?
Ball Mastery Training is the practice of technical routines in a tight amount of space which allows you to literally get thousands of touches on the ball in a short amount of time.
Our 1,000 Touch Ball Mastery Series takes the guesswork out of ball mastery training. You can easily get thousands of quality touches by following the step-by-step program.
Try This Session Today!
So Why Is Ball Mastery Training So Important?
It's the Foundation of Everything: All other skills build on a strong ball mastery foundation. Without it, a player's game will always be incomplete.
The Younger You Start the Better:

  While it's never too late, the earlier you start ball mastery training – the easier it will be to acquire these skills.
Team Training is Not Nearly Enough: Coaches manage the entire team's training. This includes much more than ball mastery.  Anytime Soccer Training gives you the best of both worlds.
With just 15 minutes before practice, you will get more touches than the rest of the team combined.
Improves Other Areas: Ball mastery training improves balance, coordination, and overall fitness.
Rarely do youth players need to work on general fitness without incorporating the ball.
Technical Players Have More Fun!
Let's spell it out.
Soccer games use only one ball.
Every player wants that ball.  Don't believe me? Roll a ball in front of kids and watch what happens.
Therefore the more a player has the ball – the more fun they have.  The less a player touches the ball – the less fun they have.
The most technical players dominate the ball.
This Means that Players who Master the Ball Enjoy Soccer More.
Where do I Start?
Start with free playing with your child. Fuel their passion by attending loads of soccer games and watching soccer highlights on Youtube and TV.
Try one of our Fun & Games videos. They are packed with soccer exercises and fun games.
Improve Your Dribbling!
Try this Figure 8 Explosion video. It's a sample pulled from our program of over 101 fun soccer games and over 1,000 training videos.
Figure 8 Explosion