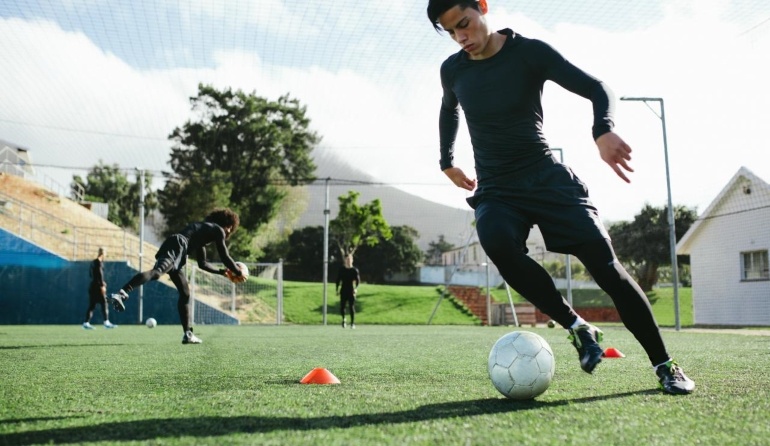 There are plenty of cool, but unnecessary moves and tricks in soccer. They might look fancy, but most of them aren't effective in real game situations.
In this post, we will show you three effective moves and provide easy-to-follow training sessions for practice.  Do these videos at home and you will blow past multiple defenders during games with ease.
1. La Croqueta
Andres Iniesta's signature move – La Croqueta – is a simple skill worth mastering to help you maneuver in and out of tight spots. It sees you shift the ball swiftly from one foot to the other before powering away from the defender.
The below video is part of the Anytime Soccer Training's Five Star Dribble Master Series.  The drill is designed for you to get over 500 touches in less than five minutes.  Practice this three times a week and you will easily blow by defenders in tight spaces.
2. Fake & Take Body Feints
Body feints are effective because they are both simple and deceptive.  Skilled players can combine body feints with dribbling, passing, and finishing.  As such, the Anytime Soccer Training program incorporates different versions of body feints across a spectrum of over 1,000 training videos.
Practice with this video from the 1v1 Domination Series at home and you will be sending defenders the wrong way in no time.
3. Scissors
The scissor is a cousin of the step over. With a step over, the player fakes a pass with the inside of the foot and brings the foot over the ball.
The great thing about the Anytime Soccer Training program is that it allows you to practice hundreds of 1v1 moves in a format that is 100% follow-along.
Practice this move at home using this video and chop up defenders left and right. Notice that this video only uses the right foot.  That's because Anytime Soccer Training has a dedicated video for each skill move and each foot.