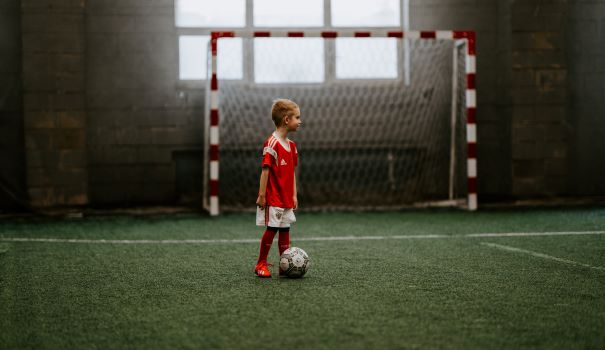 At least once a week, my sons and I are on the soccer field playing 1v1 and training with Anytime Soccer Training.
Invariably, the rhythmic music of the app and the fast-paced training of my sons impresses nearby parents whose children are under the age of six.
Viewing me as some sort of expert (not knowing I actually never played soccer myself) their most common question is,
What did you do with your sons before they were old enough to join a team?
In this post, I will share five tips that fueled my children's love and passion for soccer.
Related:
Take the 30-Day Juggling Challenge

Tip #1 I Played All Sports with Them (Everyday)
Grab some baseballs, footballs, soccer balls, etc., and just play!  I still remember those days at the local park racing, chasing, tagging, and playing catch with my sons.  Of course, this was fun, but I was also modeling for them an active and healthy lifestyle.
For years, I think they viewed me as the dad who loved to play.
Tip #2 Leave Loads of Soccer Balls (of all sizes) Lying Around the House
I must admit that this tip is against the better judgment of my wife! Not only did I leave at least ten balls around the house, but I also made sure to carve out some space for them to play. Even if it meant arranging furniture in rather awkward ways.
You've heard the saying, build it and they will come; well my saying is,
Provide it and they will dribble.
With so many balls in the house, my sons were constantly dribbling around furniture and nutmegging my wife and me.
Tip #3 Watch Soccer Games
I can't tell you how many parents lament to me, "I can't get my child to watch soccer". My follow-up question is always, "Do you watch soccer."  More often than not, the answer is no.  Watching soccer games is extremely important when fostering a love for the game.
Even if you don't watch entire games, make an effort to watch soccer highlights and legends of the game.  Below is an early video of my son and me having fun watching a 2018 derby between Manchester United and Manchester City.
Tip #4 Go to Soccer Games
Going to soccer matches is fun and relatively inexpensive.  And, ironically, when kids are really young, the lower the tier of soccer the more fun the experience seems to be.  That's because you normally can get great seats very cheap.
While I was attending grad school at the University of South Carolina, my family attended almost all home games.
The tickets were cheap, the atmosphere was electric and we normally got to meet the players.  For four and five-year-olds; meeting a college soccer player was the equivalent of meeting a rock star.
Tip #5 Volunteer to Coach Their First Soccer Season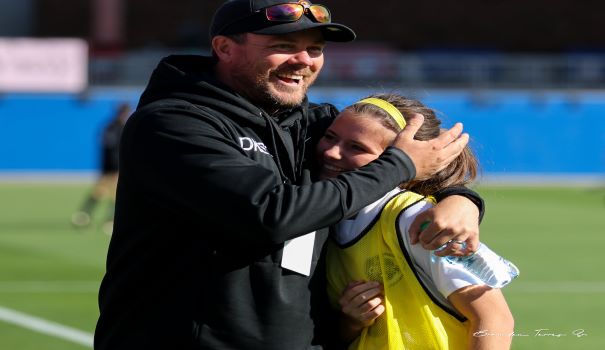 Related:
Become a Superhero Coach

Volunteering to coach can be daunting – especially if, like me, you never played the game.  However, there are so many resources that will guide you through every step.
More importantly, it's fun and a huge inspiration for your child to see their parent actively leading the team. You better do it while they are really young and not too cool to be seen in public with mom or dad!
Bonus Tip: Read the Biographies of Famous Soccer Players to Them
There are loads of great books about soccer players at school and your local library.  The stories of great soccer players and their tales of hard work were great inspirations to my sons.