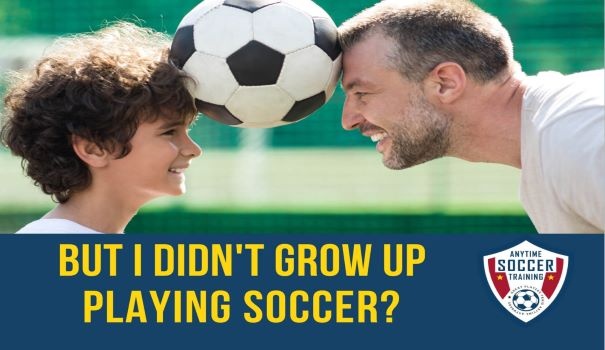 But I didn't grow up playing soccer?
This has got to be one of the most common reasons parents give for not helping their child get extra touches at home.
My name is Neil Crawford and I am the founder of Anytime Soccer Training.  Like so many, I also didn't grow up playing soccer.  As a matter of fact, being from rural South Carolina, I don't think our high school team even had a soccer team.
Fast forward – when my son started soccer, I could tell he really loved the game but was so behind the other kids that he became frustrated.  I knew the only way he was going to improve was to get some extra touches at home.
So what did I do?
I spent hours searching the internet for drills.

Then I had to organize them based on my son's skill level. And when we finally started practicing, I had to stop and start every two seconds to show him the next move.
I knew there had to be a better way.
That's why I created Anytime Soccer Training.  It's the program that I wish I had 10 years ago when my son's first started soccer.  With Anytime Soccer Training I made sure that everything you need is laid out for you in a step-by-step progression that is easy to use and easy to follow.
Every detail is designed so that your child gains daily success and is motivated to stick with it long-term.
Try the below videos from the First Touch Rebounder series so that you can see how easy it is to follow the program.  When you finish, imagine how much your child will benefit from thousands of similar videos across the spectrum of skill areas.
Right Foot Only Rebounder Session
Left Foot Only Rebounder Session
Both Feet Rebounder Session
PS: Ignore anyone who tells you that you can't help your child get better. You can do anything you put your mind to – you just need determination, self-reflection, and the right system.  Anytime Soccer Training is that system.
Check out our podcast entitled, The Idiot Parent's Guide to Training Your Own Child.