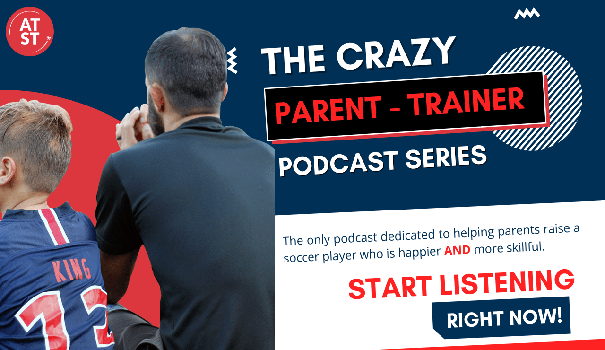 My name is Neil Crawford and I am a soccer dad and founder of Anytime Soccer Training. When I started training my own two sons; all my actions revolved around a central dilemma;
How do I actively supplement my sons' training so that they become "masterful" on the ball while keeping things relatively fun and avoiding burnout?
Sure, I could train them, but will they burn out? Sure, I could just play with them, but will they acquire the skills needed to really enjoy the game?
In doing my research, I found that there were no resources dedicated specifically to helping parents navigate this challenge.
The soccer information I came across was either targeted towards coaches or meant for parents who don't supplement their child's training.
I launched the Parent-trainer podcast series to help other parents avoid some of the mistakes I made, while still getting effective results. 
Be warned, that I talk candidly about what my sons and I do on and off the pitch.  I love hearing feedback and even criticism on the
Anytime Soccer Training Facebook Group
.
So if you are a parent who trains your child or has intellectual curiosity – this podcast series is for you.  Each week, I will add another show to the below list.
Episode #1 Ball Mastery Secrets for the Parent-Trainer
In this show, I defined the parent-trainer as sharing the following beliefs:
Parent-trainers believe that the individual must take ownership of their own development.
However, children need help from their parents until they reach an age of self-actualization.
Parent-trainers believe deliberate practice is an effective and necessary component of mastery.
Parent-trainers are unwilling to outsource 100% of their child's development (in soccer or anything else) to someone else.
Parent-trainers are introspective – recognizing the need to strike the right balance needed between training and fun.
Episode #2 Raising the Whole Child
In this show, I expand on the idea that the parent is merely standing in for the child until the child reaches self-actualization. I also discuss a solution I devised to address a mistake I made which only affects parent-trainers.