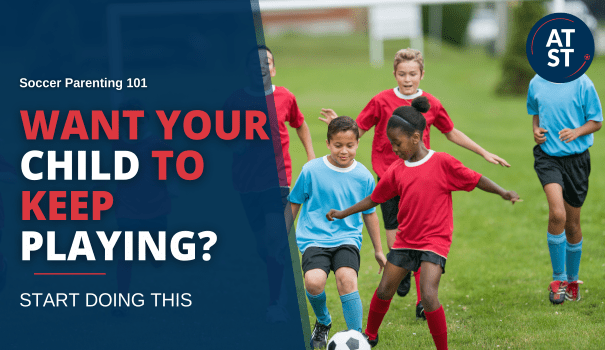 Co-published with The Coaching Manual
The recent training manual TCM Parent Survey uncovered some interesting trends around the importance of spending hours away from the training ground, including that,
Kids not only become better players when they practice at home, but they are also happier in their soccer club.
According to TCM research, 61% of American football players who do not practice regularly at home are likely to quit football in the near future.
The Coaching Manual surveyed thousands of parents of gamers in the TCM Parent Survey 2022. We asked parents a number of questions including their child's happiness in sport, satisfaction with regard to his current club, and whether or not he was likely to quit. soccer quite soon.
Related:
Improve Your Footwork

Across the pond, 35.7% of UK kids who don't play at home are thinking about quitting the sport. This percentage is much lower in the UK is probably due to the 'ubiquity' of football in this country – it is the number one sport in this country and children naturally gravitate towards it.
In the United States, the sport of soccer must compete with sports like American football, basketball, baseball, and other sports rooted in the country's culture. That said, 35.7% is still far too high.
Conversely, zero children who train regularly at home were likely to drop out of football.
None of the more than 20,000 respondents to our survey who said their children trained regularly at home also said their child was likely to give up football soon.
What does it mean?
In a nutshell, kids get more out of any sport if they spend time practicing away from the training ground. Yes, they will improve their skills and become better players, but on top of that, reaching a skill level in football means they are more likely to enjoy training sessions, enjoy games and see their own progress.
One or two hours of structured training sessions per week is not enough to become proficient in any sport.
It was no surprise to us that players are happier when training from home – we've been touting the benefits of training off the pitch for years:
What can my club do?
Start by sharing Anytime Soccer Training with your families and coaches. It's free for clubs.
The program provides everything parents, coaches and players need to get extra practice at home outside of structured training sessions.  We have removed all the pain points from in-home soccer training.
It's really easy to use and the parents and players just need to hit play.  Moreover, clubs can create teams, set training goals, and track each player's progress. The best part is that the program is free to join (and use forever) and annual subscriptions are less than $5 per player per year.
Click here to get started.