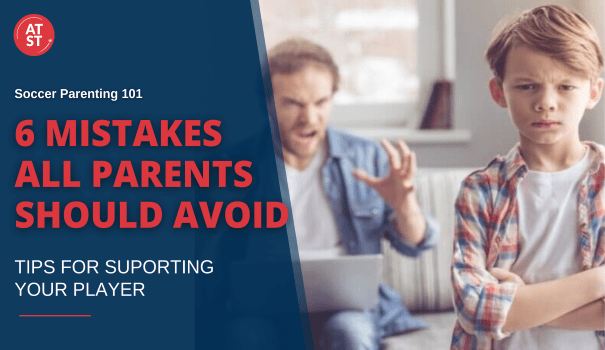 So you got the soccer balls, purchased the uniforms, and are all set for tryouts.
Before your family takes the field, make sure to steer clear of these common soccer-parent mistakes.  And don't worry coaches; there is a lot for you to learn too!
Helping your own children practice soccer can be very rewarding and at the same time very challenging.
Learn how to avoid some of the most common mistakes that many parents make.
#1 Not Getting Their Buy-in
It's tempting to conclude that your child won't do it – but did you first get their buy-in?
Anytime Soccer Training includes over 101 fun soccer games and the videos are step-by-step, follow-along, and short.
It provides the perfect opportunity for you to discuss with your child the importance of personal commitment and individual effort.
Agree upfront on the amount of practice time per week and hold each other accountable. Consider a reward when they meet certain milestones.
Even if you start with just ten minutes – that begins the formation of a healthy habit.
#2 Moving Too Fast
We have all been there. Tryouts are coming soon.  You feel like your child is falling behind.  They are extremely ambitious. So you create a plan for them to do two hours per day! Your child stops after two weeks.
It's a marathon, not a sprint. We designed the program to challenge your child, but also not discourage them from continuing long-term. That is why the average length of the videos is only five minutes.
Also, we use an interval-based format that gives a quick break between each exercise.  They will get better if they stick with it.
Be patient, if you spend at least 15 minutes a day getting those extra reps – your child will see significant improvement over time.
#3 Micro-Managing Them
According to research summarized in our blog, when children are autonomous, they are more likely to feel capable of making their own healthy choices. You don't need research to know that no one likes being micro-managed.
One of the reasons we created Anytime Soccer Training was to promote self-discipline, self-determination, and a sense of fulfillment among children.
Your children will only experience these emotions, if you let them fail.
As a parent and coach – focus on the process.
Definitely provide some instruction, but give them the space to own their own training.  You will see that they will get better and they will actually start practicing the skills on their own.
#4 Forgetting the Fun
Eager to see improvement, many parents and coaches forget the fun.  Ironically, people who have fun develop better and are more creative.
Related:
The Forgotten Importance of Freeplay

Anytime Soccer Training has over 101 fun games that you can play with your child.  Additionally, we have a 1v1 Games series focused exclusively on playing 1v1 against each other and teammates. Kids love them.
No matter what you decide, just remember to always incorporate fun activities within a training session.
#5 Underestimating the Importance of the Fundamentals
We see the same fancy soccer YouTube videos that you do. We love the passion and creativity that young people infuse in the sport – but don't forget it starts with your child possessing mastery over the fundamentals.
Anytime Soccer Training allows your child to develop new skills at their own pace.  That is why we have over 1,000 training videos that go step-by-step.
If your child mastered one move a month, those twelve moves would make them more technical than almost all the kids on the team.
#6 Losing Your Cool
It's an ugly truth that many parents lose their temper when working with their kids.  Some of the items mentioned earlier contribute to this.
As a parent, I understand and have worked hard to avoid this mistake. I do this by mixing fun games with short videos and allowing them to follow along with autonomy.
Good luck and check out our weekly podcast dedicated to helping parents navigate the world of youth soccer.